From Employee to Agency Partner: An Interview with a Small Business Owner
Are you thinking of starting your own company or struggling with growing pains? Learning from someone who's been there is always a good idea. Today, I'm interviewing my boss, who changed zip codes many times before settling in Cleveland, where he owns a digital marketing agency, coaches basketball and soccer for his two amazing daughters, and juggles between 5 am yoga classes and 7 pm networking events.
HANY BY THE NUMBERS:
Languages spoken: 3 (Arabic, Croatian and English)

Countries he's lived in: 5

Daughters: 2
Those who have worked closely with Hany ElHibir know him best as an easy-going, friendly – and focused — business development lead and co-owner at 42connect. Yet, behind who Hany is today is the story of where he came from: what inspired him to start the business with Brian Ferritto 16 years ago?
"My parents always encouraged me to follow my dreams, but never forget my roots," he says.
Hany was born in Kuwait and lived in Iraq, Jordan and Croatia before relocating to the United States to attend college. His Sudanese and Croatian parents taught him to explore the world, and – after graduating – he settled in Cleveland. A few years later, 42connect was born.
Join me as we explore which of Hany's lessons learned along the way are most valuable for entrepreneurs.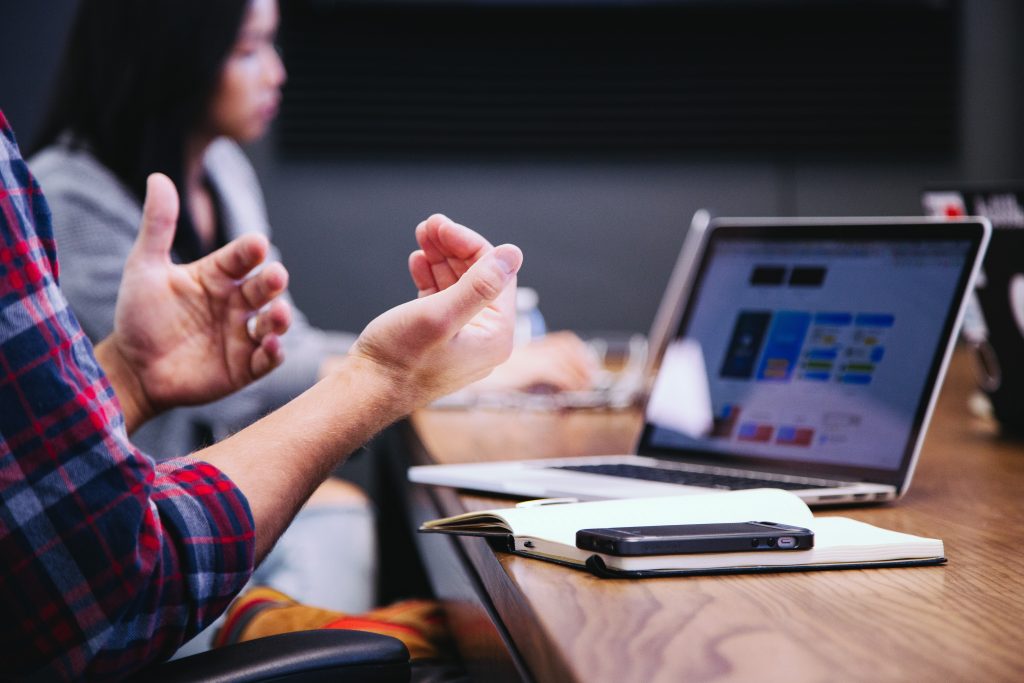 When did you first know you wanted to start a digital agency?
Brian and I had worked together for many years at a small advertising agency in town. We had a great working relationship – I was a project manager and he was a website designer – and always enjoyed pursuing the great possibilities digital communication has to offer. We had a similar vision.
The first inklings of 42connect were born out of that time. I was at a crossroads in my life – about to get married – and I wanted to create something of my own.
What challenges did you face early on?
Starting a business is never easy. You have to hustle to get clients and really prove yourself. Brian and I definitely did that, even taking on odd jobs like valeting cars on the weekends to make ends meet.
After six months – which is pretty quick for a business like ours – we were able to rent a small space in Beachwood and leave the odd jobs behind.
How do you handle growth within the business?
We try to be very responsible with the growing process. We've always had a strong network of people we work with on a freelance basis; that helps us keep growth steady while still delivering the quality of work we promise our clients. Over the years we've also brought on a team of folks to help us with much of our day-to-day operations. Our staff has grown as we've weighed the needs of our clients against our commitment to offering our people benefits, career possibilities and job security. It's important, always, to find the right people with the right motivation that share our core values. We want to bring on employees that fit the team that we are working to build and create a great office atmosphere. It's extremely important to create a good dynamic. I'm happy to say that 42connect keeps growing every year and super excited of the team we have today.  
What skill has helped you most throughout your career?
My dad taught me early on the importance of communications to relationships. He worked for the United Nations, and – needless to say – he used his listening skills every day. It rubbed off on me: I love talking to people wherever I go. Networking is a big part of my life, and always has been.
Building relationships is key to business success, even with people that aren't client's today. We can all learn from one another. Some of the clients we still serve today are relationships I built long ago at previous jobs.
How do you keep a work/life balance?
It's not easy when your work is really a core part of your life. I'd say it's a balance of family, physical activity and travel. I've done yoga for years, attending daily classes sometimes before dawn. I've even taught a class one time! I'm also a huge soccer fan. My wife and I have two great daughters – Sofia and Estella – and I coach their soccer as well as basketball teams. In 2018 I got to combine my love of soccer with my love of visiting Croatia, which we try to do as a family every other year. We just so happened to be in the country when Croatia was in the finals of the men's World Cup. The games were thousands of miles away in Russia, but it was quite an experience just being there to watch the games and celebrate each victory.  I have to give credit to my 42connect team for making it easy for me to be gone for an extended period of time.
What's the best advice you'd give to someone who wants to start their own business?
Delivering excellence will always get you closer to the clients that you want. Work on your networking skills, build relationships, be patient and persevere. Also, as cliché as it may sound, don't be afraid to fail. You have to learn from your mistakes. I've learned from my own mistakes as well as mistakes from my previous bosses. I've also applied some of the good things they taught me.
If you have a goal, know that there's never going to be an easy way to get there without failing. If you work hard on it, you'll get to where you want to be.
The path is rocky, and the carrot seems to always be right around the corner, it's important to make a pause for a minute and appreciate what you've accomplished. Hany and Brian's stories are examples of perseverance and hard work; I hope they've inspired you to keep growing and remember, excellence is not a skill, it's an attitude.